CNX Foundation Donations Exceed $100,000 to Southwestern Virginia Charities in 2022
Delivering on the "Appalachia First" Vision: Tangible, Impactful, and Local Efforts Make Significant Differences in Virginia Communities
January 5, 2023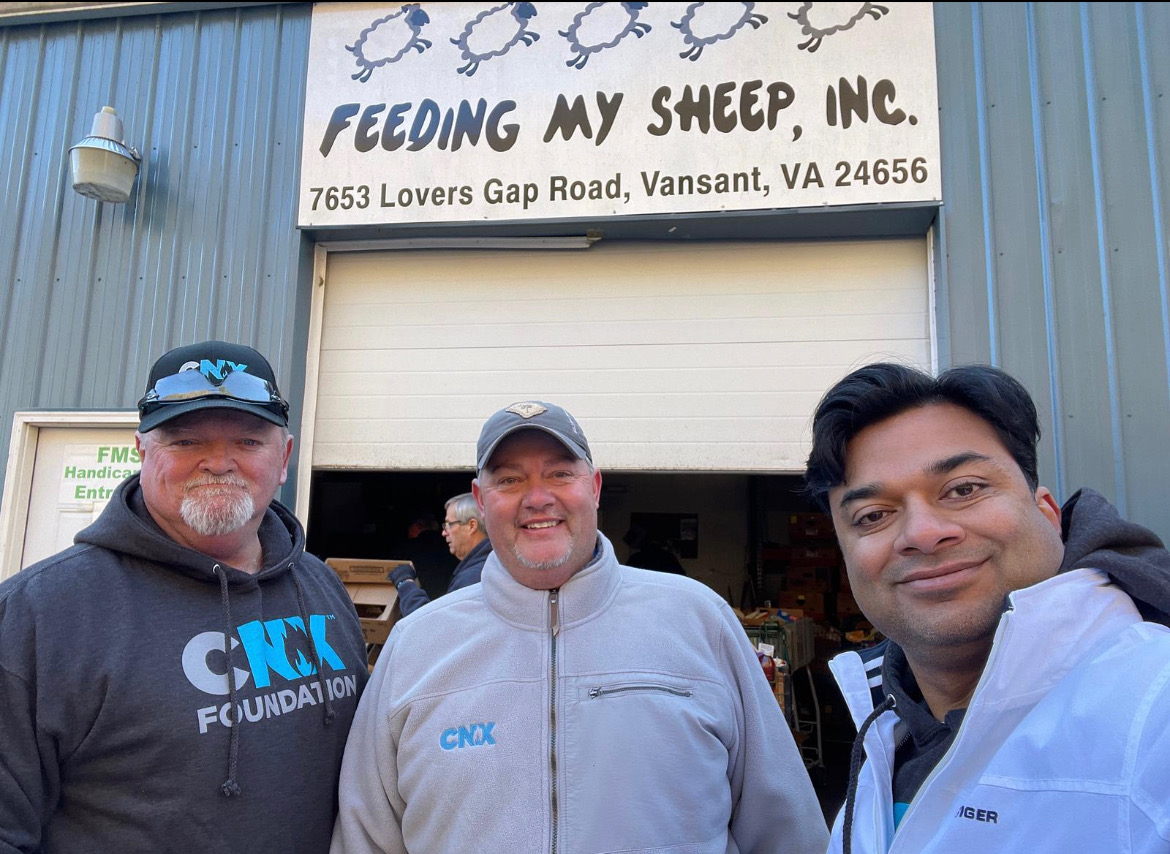 Cedar Bluff, VA – January 5, 2023 – From flood relief efforts in Buchanan County to holiday gift donations and food drives, CNX Resources' (NYSE: CNX) CNX Foundation contributed more than $100,000 to southwestern Virginia community-focused organizations throughout 2022. This effort is a result of delivering upon CNX's Appalachia First vision, to more effectively leverage the Appalachian region's vast natural gas assets to the benefit of local communities. 
As Virginia's largest natural gas producer, CNX is delivering on its multi-million-dollar commitment to invest tangibly, impactfully, and locally in communities across the region. An increased operational presence in Virginia led CNX Foundation to prioritize additional needs and opportunities for the region's communities.
"CNX is embracing our community-first, ESG philosophy to generate long-lasting, sustainable returns for southwestern Virginia communities," said Brian Green, CNX Resources Vice President of Virginia Operations. "This means we step up when flooding devastates the region to support issues like children's health and wellness and to help families put presents under the tree. We believe these investments and employee volunteerism makes measurable and visible differences in the communities we serve."
Last year, CNX Foundation donated more than $88,000 to support flood relief and additional restoration efforts in Buchanan County and the broader region. Specifically, CNX aided 135 families through cash assistance, assessed 500 homes for damage restoration and distributed over 4,200 meals to people in the flooding's aftermath. 
Direct Flood Relief included:
Producers Supply (supplies purchased and taken to Buchanan County) - $33,236.93
United Way Southwest VA - $20,000
American Red Cross - $20,000
Feeding My Sheep - $10,000

This grant was used to purchase food at $0.19 per pound. Approximately more than 52,000 pounds of food helped to feed people in southwest Virginia

Grace Fellowship Church of God – Flood Support $5,000
In addition to flood relief, CNX Foundation also prioritized volunteerism around food insecurity and children's health and wellness, two of CNX Foundation's key pillars. Employees collected and donated $4,000 in gifts for children in the Southwest Virginia Stars Project and delivered more than 400 canned items and other non-perishables for the Good Samaritan Food Pantry. CNX employees also traveled to Vansant to distribute food for Feeding My Sheep, Inc., a local food bank.
"We are so thankful for CNX's dedication to our community," said Amanda Thomas, Stars Ministries Director. "Our organization would not be well equipped to support the community without volunteerism. We are truly blessed CNX stepped in to provide aid to the southwestern Virginian families we serve every day."
Additionally, the CNX Foundation partnered with the football boosters program to purchase new equipment for the Tazewell High School football team. ​ 
CNX Foundation plans additional investments across southwestern Virginia in 2023. Learn more about CNX Resources Corp. (NYSE: CNX) "Appalachia First" plan, the company's vision for the future here. 
###
About CNX Foundation
The CNX Foundation is a registered 501c(3) philanthropic organization that invests tangibly, impactfully, and locally, targeting urban and rural communities within the Appalachian Basin that face socio-economic challenges. With a commitment of $30 million over six years and a focus on underserved populations, the CNX Foundation seeks to set a new standard for how corporations engage with their communities. Additional information, including funding criteria and grant application details can be found at www.cnx.com/foundation.
Contact: 
Brian Aiello ​ ​ ​ ​ ​ ​ ​ ​ ​
724-485-3078