Greene County Broadband Initiative Advances with $1M Donation from CNX Foundation
Contribution Supports Phase Three of Project, Bringing Greene County Closer to Providing Internet Access for All Residents
June 8, 2022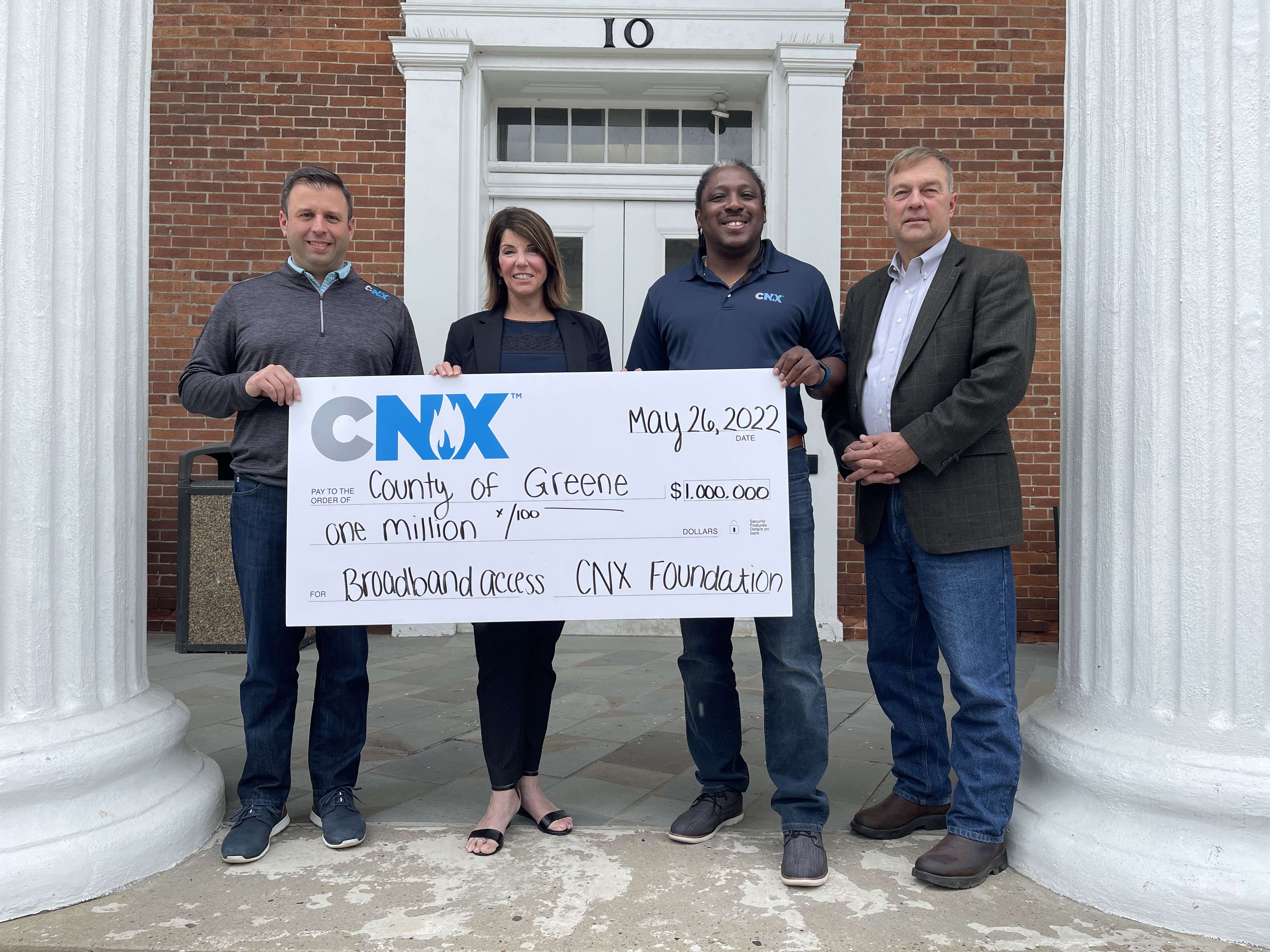 PITTSBURGH – June 8, 2022 – CNX Foundation, a nonprofit organization powered by CNX Resources Corporation which invests tangibly, impactfully, and locally in rural and urban communities across the Appalachian Basin, presented Greene County Commissioners with a $1 million donation to fuel efforts in optimizing broadband internet access across Greene County. CNX Foundation leadership and Greene County Commissioners launched their partnership with a check presentation outside the Greene County Courthouse on Thursday, May 26, 2022. The donation marks the largest industry contribution Greene County received to-date. CNX Foundation's support is the third major investment since the initiative's inception.
CNX Foundation's donation supports Greene County's goal to provide complete internet availability and access to more than 36,000 residents. Aside from advancing the broadband initiative into phase three, the partnership also progresses Greene County's efforts to become the first 'gig-capable' rural county in Pennsylvania. The $1 million grant is expected to begin deployment within six to nine months.
"Greene County has been left behind before, but CNX Foundation has stepped up for our community," said Mike Belding, Greene County Commissioner. "To accept a monumental donation such as this one solidifies the partnership altogether and allows us to stay connected with our neighbors."
The broadband expansion in Greene County will benefit local residents, businesses, industries and people across the Commonwealth of Pennsylvania. With increased internet access for all, the county's efforts bring opportunities for students to learn virtually, professionals to work from anywhere and residents to obtain higher quality entertainment options. County commissioners encourage local businesses and industries to support and get involved with broadband development in Greene County. Increased availability of broadband is not only improving the lives of residents, but also the economic development in the county and provides increasing employment opportunities for county residents.
"CNX Foundation's generous donation expedites this process and is allowing us to get the technology needed to the people in Greene County," said Greene County Commissioner Betsy McClure. "Since presenting the broadband technology initiative in 2020, we've deployed $9 million in grants, and we're not slowing down."
This is the third major investment in broadband in Greene County in the past two years. Following a comprehensive feasibility study, the Commissioners successfully invested more than $3 million in broadband service improvements to serve more than 8,300 underserved and unserved households with a combination of CARES Act Funding and industry capital investments. Following that success, the Commissioners received $2.5 million in Appalachian Regional Commission Grant funding matched with $2.7 million from industry capital investments which will be invested in all or parts of Aleppo, Freeport, Gilmore, Perry, Springhill and Wayne Townships. The CNX broadband expansion initiative in Greene County kicks off in July with an estimated completion by early 2024.
About CNX Foundation
The CNX Foundation is a registered 501c(3) philanthropic organization that invests tangibly, impactfully, and locally targeting urban and rural communities within the Appalachian Basin that face socio-economic challenges. With a commitment of $30 million over six years and a focus on underserved populations, the CNX Foundation seeks to set a new standard for how corporations engage with their communities. Additional information, including funding criteria and grant application details can be found at www.cnx.com/foundation.
About Greene County
The extreme southwestern corner of Pennsylvania, Greene County is considered the cornerstone of the keystone state. In our many communities, as well as in our county seat of Waynesburg, folks pass you on the street and call you by name. Friends chat on the courthouse steps or at the local grocery store. But, high-speed connection to the world is alive and well. The best of both worlds can be found here; small-town atmosphere and access to the rest of the world. We welcome visitors and newcomers with open arms and quickly become old friends. ​
# # #